About Casa De Los Pobres in Tijuana, Mexico
The name means "House of the Poor" in Spanish.  It was originally founded in 1957 by Franciscan Sisters in the Colonia Altamira neighborhood of Tijuana, Mexico.
For more than 50 years, Casa de los Pobres has served the "poorest of the poor" in Tijuana. These families live in nothing more than shacks — with cardboard walls that don't keep out the cold or rain.  (A blanket is each family's prized possession, and tarps in rainy season are coveted by the people of the Casa.)
In some areas, the roads become impassable with large ruts and mud, leaving the residents stranded without food for days.  The poor and destitute people that come to the Casa's doors are sick, hungry, frightened,  and cold — but also humble and hopeful.
The Casa provides poor families with: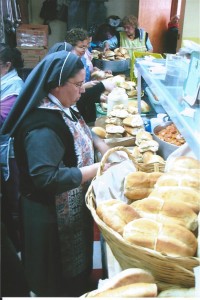 A hearty breakfast each morning — usually meat with beans and rice, oatmeal and milk, and always hot tortillas.  For many parents and children, this may be their only meal of the day.
A bag of groceries once a week on "Bodega Day" 
Clothes that have been donated to the Casa
Other home supplies (visitors to the Casa may need soap, toothpaste, shampoo, and other basic necessities)
General medical care
Education
The Casa is like a big community center for these people — because they have nowhere else.  Fr. Gil Gentile (a Director of the non-profit USA group) says Mass at the Casa every Thursday.
"Many Poor People Living in Shacks Came to Our Convent to Ask for Food . . ."
In 1941, the Franciscan sisters of Our Lady of Peace came as missionaries to Baja
California.  The sisters only had a chicken house that they converted into their first convent.  In 1952, a small convent was built in the suburban hill colony, where the Casa is now.  Many poor people who lived in shacks, with no roads, no water, and no schools would come to the convent to ask for food and clothes.
The sisters wanted to build a place to take care of these poor people in the hill areas.  In 1957, a piece of land near the convent was loaned to the sisters, to start a place to feed the poor people. It included a horse stable, which became the first building of Casa de los Pobres.
The children received school lessons from the sisters

Bread was distributed when available, as well as clothes
A small wooden room was added and some volunteer doctor would come from time to time to help with medical care for those in such great need.
In 1972, services were improved when a small clinic was built and the dining room was
expanded. The people who come to the Casa for help also volunteer at the Casa — they have been a great support for the daily tasks needed to keep the clinic, dining room, grocery room, and clothing room operating.  They receive a small bag of groceries for their work.
The Casa is also involved in:
Delivering food for prisoners in two local jails

Giving shelter and housing.  Families show up at the Casa, sometimes with babies, with no place to go.
Providing scholarships
Spiritual care and home visits in different suburban areas throughout Tijuana, a city of more than 3 million people
Completely Supported by Donations for more than 50 Years
All of the Casa's services are provided by donations of food, services, and money from various kind souls and organizations.  The Casa has never had a budget available to support its efforts — it relies solely on donations from generous individuals, congregations, and organizations throughout the Western United States and Baja California.
No one is ever turned away at the Casa. All are nourished, in body, mind, and spirit.