Psalm 40
"From my part and from all my little patients, MANY THANKS for your continued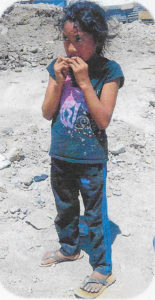 support to Casa de los Pobres. With your help, we have been able to attend them from Monday to Friday, all the sick little children that come here, and be able to find soon the sicknesses on time and, if necessary, send them for hospital care. The most cases are malnutrition, diarrhea, bronchitis, pneumonia, parasites, skin problems, and treating them on time. I had control of nutrition because of low weight triplet girls. Now, they are four years old and in the normal weight range. I also see children with cerebral paralysis. Thank you." Dr. Norma Ramirez, Pediatrician
"I am a general medicine doctor, collaborator in Casa de los Pobres, and am grateful to all friends and benefactors for their valuable support that they give to the Casa.
I see and care for patients of low income with illnesses more frequently as diabetes, hypertension, and many other health circumstances of those who come here. Some of them have not received any medical attention whatsoever. I thank God and you for supplying economic resources to obtain medicines to control their health problems, so they do not lose their medical treatment. May God bless you today and always." Dr. Enrique Valdez Navarrete, Medico General
How You Can Help!
In July and August, the Sisters request:
SCHOOL SUPPLIES for the children: notebooks, pencils, pens, book bags
SOCKS
NEW SHOES
We welcome your backyard donations of extra fruit and vegetables.
THERE IS ALWAYS A CONTINUAL NEED FOR NONPERISHABLE FOOD OF ALL TYPES AND BEDDING.
"We humbly ask of your generosity a donation to continue to care and serve the people in need that come here and those whom we reach out to." Sister Armida and the Sisters
The Sisters encourage education along with vocational training. The Casa Scholarship Program (bus money, uniforms, and a small tuition) helps serious students attend both primary and advanced schools. For dedicated pupils, this always leads to a decent job. This breaks the vicious cycle of poverty. It happens regularly! Many of the students eat breakfast at the Casa, and travel to school with full stomachs and clear heads.
The Sisters serve a hearty breakfast (7:30 am to 10:30 am) of oatmeal made with milk and bananas, beans, and either meat or eggs, coffee and milk. They give out bags of food from the Bodega (food pantry) each Thursday. They serve bean burritos on Tuesday and Thursday, cheese burritos on Friday, and peanut butter sandwiches on other days. Occasionally, townspeople drop off small donations of food. The Sisters use everything.
THANK YOU FOR PROVIDING FOOD AND ASSISTANCE FOR THE POOR. Your generous donations are acknowledged each day in the Dining Room where hungry men, women, and children thank God for YOU and the food you supply. Sixty families or individuals contributed $18,392.10 over the past month.
Everything donated is tax-deductible. We have no overhead expense (except minimal PayPal and credit card fees). All goes directly to the poor. The Casa truck comes to 6432 Cardeno Drive, La Jolla 92037 each Tuesday except in August. Tax receipts are available upon request.
MAY GOD BLESS YOU FOR YOUR CONTINUOUS GENEROSITY
JUNE 2017:
21,565 people of all ages were served hot meals in the Dining Room
Many people received handouts of food daily
1,350 General Medical Clinic and prescriptions filled
2,050 bags of groceries were given
1,680 families obtained clothes and house supplies
386 people personally attended in Social Service office
Groups came to do haircuts
26 Scholarship aids