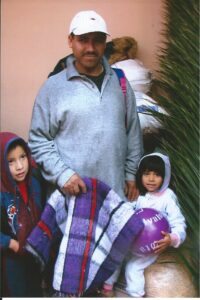 "Thanks to God and His Son Jesus Christ and to our Mother Virgin Mary for this place and to you Sisters for your love to your neighbors. I was left without a job and do not have a place to live, so I came to get some groceries. I have need of clothes, shoes, hygiene supplies, and a blanket. Please excuse me for all I am asking. May God bless you all. Thank you." Jaime A.
"Humbly and respectfully I ask for help. I came from the state of Michoacan, Mexico, trying to find healthy life and work, for this I need your help (personal needs for clothing and hygiene items). Thank you. God bless you for your kindness." Trinidad E.
"My needs are many but for now I am grateful I could have a stable job, for now I live in
the streets. I thank you for your humble offer of help for personal needs. Thank you for whatever it can be. God bless you all." Jesus R.
"Thanks to Casa de los Pobres, to all the people who serve there and to all the Sisters. I'm 84 years old and I don't have a job. I live alone. I need a T-shirt, pants, and tennis shoes. Thank you all and thank God." Jose B.
Christmas at the Casa
Your donations will help to provide a special bag of groceries, and a chicken for 1500 of the poorest families, along with the precious gift of a new blanket.
This is an example of the type of family that receives food, a blanket, and a toy at Christmas: "Mr. Hernandez, his wife Rosa, and their three children. Cindy, 8 years old, has brain paralysis. Zulma, 2 years old, got meningitis at 3 months and is mentally disabled and cannot speak or walk. They live in a small house with 2 rooms and have to buy water from a truck. Rosa takes care of her daughters day and night. Mr. Hernandez loves them and is very patient. Their 9-year-old son is in 4th grade and his tuition is due soon."
Many families who receive help at the Casa manage children with incapacitating illnesses.These children are loved and cared for tenderly. How consoling for such families to receive the Christmas gifts from the Casa — gifts from you!
Those who receive these gifts live in the dumps on windy hills, have no running water,
electricity is scarce and often provided via extension cords strung from house to house. "Bathrooms" are crude. Men, women, and children suffer from malnutrition and diseases caused by the breathing of burning garbage fumes. This is truly third world living right on our doorstep. We will try to bring some comfort with a Happy Christmas feast!
Can you help — through monetary support — and prayer?
Can you become a regular donor in the New Year? We NEED YOUR MONTHLY HELP.
Please pray for the people and the Sisters. The impoverished men, women, and children who come to the Casa are grateful and feel your loving care. Without you, they would not celebrate such a happy and warm Christmas. Sister Armida relies on "God to provide." He surely does through your open hearts.
Can we add you to our postal mailing list? Please contact us below (we won't post your address publicly).
We thank God for your goodness and wish you a blessed Christmas and a holy New Year