Margarita V writes, "Hola, my name is Margarita V. I have 3 children. Gilberto works in
a grain store, Ramiro attends high school, and Roxana is in secondary school. I do not have a stable work because I do not have much studies, I only finished elementary school. I take care of 2 children two or three days a week and I clean houses sometimes. We are so so very grateful for the groceries we receive on Thursdays and sometimes, we receive other surprises such as hygiene supplies, blankets, shoes, or house supplies. And we enjoy breakfast. Thanks to the Sisters and to all the persons who support this mission. May God shower you all with blessings. I send you a flower of love."
"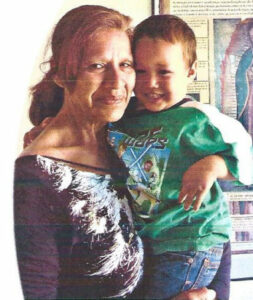 My name is Dora. First of all, I say I am grateful to God for so many blessings and for the persons who make possible to take such blessings to our home, the bag of groccries (and other gifts as blankets and shoes), I am infinitely grateful as I am elderly. Eight years ago, the government office for the protection of children (DIF) returned to me a great-granddaughter, and I do not have any support from anyone. Thanks to God I learned about this place that I praise and glorify my god and my tender mother, Virgin of Guadalupe because there are persons like you. God bless you all and a million thanks for all."
How you can help NOW!
Bags of food from the Bodega are distributed each Thursday. There is a continual need for:
Bedding
Nonperishable food, especially: rice, beans, tuna, canned milk, peanut butter, and oatmeal
Hygiene supplies, like: toothpaste, toothbrushes, soap (for the people to wash themselves, their clothes, and their dishes)
Diapers: for babies and for adults
Bags of food are distributed each Thursday. The water pipes under the main kitchen are failing and need to be replaced. This will be a major expense which the Sisters hope to do soon. While the pipes are being replaced, they will have to serve cold food to the people coming to eat.
Your donations go far to help as many as possible
As you see, your donations have a great effect on the lives of many. The Sisters
are able to shop at Costco in Tijuana, Mexico to purchase much needed clothing like tennis shoes, socks, underwear and toiletry items at the best possible prices. Sister Armida and everyone at the Casa are so happy to be able to provide these essential items to so many. You can imagine how they all must feel!
Thank you for all of your generous help for the poor! The food and services provided through your donations are an aide to so many and are truly life-saving! Sister Armida would like to ask you to pray for the Casa and all of the people helping to make this aide available.
In the last few months, the prices in Tijuana for gas, electricity, and food have steadily increased. This is impacting both the people being served by the Casa and the Casa's ability to meet the needs of the many people coming to its doors. Sister Armida would like to send a special THANK YOU to all of you who have managed to continue to donate monthly to the Casa. And especially those who have been able to increase their donation with an "inflation boost" to help offset the rising expenses. All of you are a true blessing!
The Casa truck comes to the above address each Tuesday. Everything donated is tax-deductible, and all of your donations (minus minimal PayPal and credit card fees) go directly to help the poor. Tax receipts are available upon request. THANK YOU AND GOD BLESS YOU.
MAY GOD BLESS YOU FOR YOUR CONTINUOUS GENEROSITY
JUNE REPORT
23,700 people received a meal. Many received a se