Luke 1:51-52
"Mrs. Maria J. is 67 years old and lives alone in her little house that her son built for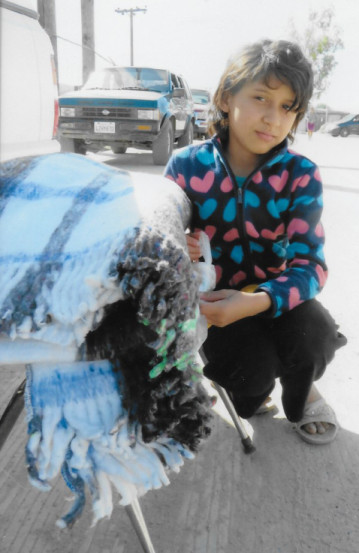 them. He died two years ago. Maria has had breast cancer for 2 years, had surgery but it returned, and she had a second surgery. The medication she needs is very expensive. She cannot afford to buy it since she cannot work, because her medication doesn't allow her to be in the sun. She has problems with swollen legs and walking is difficult. Casa de Los Pobres is helping to supply her medication. In order to survive, she gets food from the Casa on Bodega Day, and neighbors give her little things that she can sell for a small profit to buy her drinking water, bus fare, and gas for the stove. Maria thanks God for the help she receives from the Casa."
The Sisters instill hope and treat each individual with a tenderness, respect, and love that can come only from God. The undercurrent of JOY amid so much destitution and illness is felt by anyone who visits the Casa. During the Holy Hour and Exposition of the Blessed Sacrament on Thursdays, the people chant praise and thanksgiving to God for your intentions and special prayer requests. Please send us your special intentions.
How you can help the people of the Casa this month
This month, Sister Armida requests FOOD:
Tuna, peanut butter, spam, canned milk, oatmeal, and other high-protein food
and extra money to buy medicine. Sister says, "We and the people are very, very grateful for all that you do to help the Casa, and we ask you for daily prayers so that we may have strength to serve the people and give glory to God."
Everything you donate is used immediately. Clothing in good condition is needed for men and babies, as are sheets, towels, blankets, and kitchenware.
Tax receipts are available upon request. All goes directly to serve the needs of the people. We have no overhead, except for minimal PayPal and credit card fees. NO ONE IS EVER TURNED AWAY FROM THE CASA.
THE PEOPLE AND THE SISTERS THANK YOU FOR YOUR OPEN HEARTS
When you shop at Amazon, you can help the Casa
Amazon donates 0.5% of the price of the AmazonSmile purchases when you shop at smile.amazon.com. Choose Casa de Los Pobres USA from their benefit list.
April Report
Yuur generosity this month provided $15,961.07 from 48 donors. Thank you San Rafael Parish for the many bags of beans and rice collected during Lent! The people at the Casa send grateful thanks for your donations of linens, boxes of food, and warm clothing. Nights are still chilly. Thank you to Ron Lussier who collects blankets from the Scripps ER.
21,074 people of all ages served hot meals in the Dining Room
860 individual handouts of food and bread. Many people received handouts of food daily
1,728 bags of groceries were given
1,045 obtained clothes and blankets
430 people personally assisted in Social Service Office
Home visits to families and the sick
Different groups came to do haircuts
24 Scholarship aids were given
2 trips to deliver food and clothes to some poor neighborhoods
With our gratitude and prayers to Our Blessed Mother Mary, Mother of God. From the Sisters and all the people at La Casa de los Pobres.