From 12-year-old Rubi, whose mother died when she was two, and her father is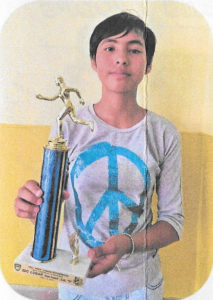 unknown. A good neighbor adopted her and her brother. They are poor, humble, and HARD workers. "I want to thank the Sisters and everyone that forms part of Casa de los Pobres for all the support through all these years. Thank you for everything that I have received such as shoes, food, and apparel. I am beyond grateful to you. Thanks for not only helping me but also many more people. I have done my Baptism, First Communion, and Confirmation here, and now we're a big family that will never disappear. People are really grateful for all the support we get from the Casa. Thank you so much for everything."
How You Can Help
SPECIAL REQUESTS: more school supplies, especially shoes and socks.
The Nuns enourage study, and parents understand the importance of school. "Education opens doors." It truly does and the Nuns are seeing this. The Sisters who teach catechism classes in the Colonias of Santa Julia and the Railroad dumps report excellent progress with all children eager to learn.
Their faith is important to them and teaches many important life lessons. Those who receive scholarship aid are becoming very serious and competitive as they continue to improve in school. The Sisters notice many positive changes now that more scholarships are available. Former destitute children will eventually become successful adults and able to help their families.
The need for FOOD and the BASICS (toilet paper, soap, toothbrushes, toothpaste, shampoo) — the little things we take for granted — is every present. (PLEASE, NO USED CLOTHING — it cann't be taken across the border.)
THANK YOU!
We thank 73 families for generous donations of $21,990.98 (food and maintenance), $1290 (for scholarship aid), and $5,000 for needed repairs. Your financial donations keep the people who come to the Casa from hunger and help support vital services in the Medical Clinic. Thank you!
Thank you also for food and bedding. Special thanks to All Hallows Church, San Rafael
Parish (who also donated $2590 in checks) and St. Patrick's Carlsbad for many school supplies (backpacks, notebooks, pencils, and all that good stuff).
The Sisters serve a substantial breakfast each morning and provide whatever extra food they have for a lunch in the patio. The men, women, and children thank God daily before breakfast for the blessings that YOU make possible in their lives. They pray for us daily.
There are many practical "Learning" jobs at the Casa itself: cooking, washing dishes, cleaning, helping to package and distribute groceries on "Bodega Day", assisting in the clothing room, or driving the truck. These men and women earn a bag of groceries (on Thursday), plus a small stipend for their work. In this way, they are able to maintain their families with a sense of dignity. The love, support, and training given by the Sisters builds confidence. Your donations accomplish all of these great works.
Tax receipts are available upon request. We have NO expenses other than minimal fees from PayPal and credit card donations.
MAY GOD BLESS YOU FOR YOUR GOODNESS TO HIS PEOPLE