Psalm 34
THERE IS AN URGENT NEED FOR FOOD IN TIJUANA, AS MANY FOOD PANTRIES ARE CLOSED. Your monetary and food donations are needed urgently!
Meet Jose, a 6-year-old. He told one of the Sisters: "I want to present to you my mom. Her name is Monica and I have a little sister who is three weeks old. My other sister is called Mireya and she will be two years. My dad is Jose. He works in a factory but earns little money. I like very much to play ball and soccer. When I get home from school, my mom gives me a yummy soup and then I do my homework that my teacher gives me. When I grow up, I would like to be a doctor to help the people who are sick and don't have money to get well."
Jose is a boy that is very enthusiastic and likes studying a lot. With your help, he can continue on to become what he dreams about: a doctor to help others. This is a good example of scholarship aid in action.
You can help break the cycle of poverty for children like Jose:
Adopt a Student with a monthly recurring gift to make a difference for a lifetime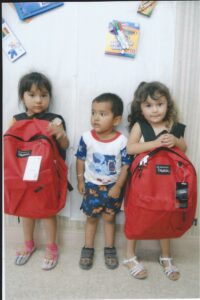 School increases self-esteem in the children by giving them a solid education in the "3 R's", while the Sisters instruct them in the important Spiritual and moral tenets of our Faith.
Your donations enable the Sisters to help over 500 students with school supplies and other necessities. With the Scholarship Fund money, the Sisters find worthy students who have goals and who truly desire to study and improve their life situation. These students discover vocation goals and work toward them. It is an exciting time of life for these many dedicated children. They deeply appreciate your help! We give, the Sisters give, the children want to give.
Food is running low and the Sisters are struggling to feed the hungry — can you help?
The Casa continues to see many more hungry people each day, and the need for staple food continues to be great. Your monetary donations of any amount, as well as food donations, are most urgently needed now.
SPECIAL REQUESTS
School supplies, new shoes and socks for children
Rice, beans, oatmeal, tuna, peanut butter, and other staple foods
Vitamins
Toilet paper, soap, toothbrushes, toothpaste, shampoo
The people of the Casa have simple needs for the most basic of things that we take for granted. (Please NO used clothing or shoes.)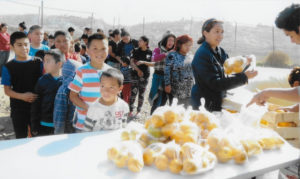 Tax receipts are available upon requests. We have NO expenses other than minimal fees from PayPal and credit card donations. Your donations go directly to the Casa in Tijuana to serve the poor. No one is ever turned away.
Please pray for these people as they pray for us.
August 2020 Report
"And the king will say to them in reply, Amen, I say to you, whatever you did for one of these least brothers of mine, you did for me." Matthew 25:40
22,000 meals were handed out in August (more than 700 a day)
1600 bags of groceries were also given out
410 households were assisted with rent-shelter and social assistance
MAY GOD BLESS YOU FOR YOUR FAITHFUL GENEROSITY TO OUR BROTHERS AND SISTERS IN NEED